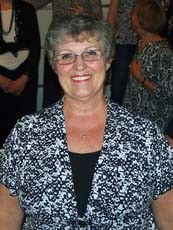 Jerrie Beyrodt
Jerrie has been a member of Sweet Adelines for many years. It is one of the main joys of her life. She was a Charter Member of the Snowbird Chorus in Bozeman, MT and served 6 years as Assistant Director (1982-1987) and 10 years as Director (1987-1997). She received the Novice Director award in 1992 at a Region 24 Contest. She and the Snowbird Chorus earned 2nd place in the small chorus division in 1992, 1995, and 1996.
From 1999-2001, Jerrie directed the Idaho Falls Chorus during which time they earned 5th place in 1999 and 3rd place in the small chorus division in 2001. With Treasure Valley Showtime Chorus, from the time she began directing in 2002, the chorus earned two 5th place medals, one 4th place medal, 2nd place in the small chorus division, and 2nd place in the mid-size chorus division.
In addition to directing, Jerrie was a dual chorus member with Bridger Mountain Harmony Chorus in Bozeman, MT and competed in Regional Competition. Later, she became a dual member with Five Valley Chorus in Missoula, MT and traveled from her home in Idaho to attend rehearsals. She won a coveted position on their Front Line, and she competed in 8 regional competitions and 4 International competitions with them. The International competitions took her to Detroit, Calgary, Nashville, and Houston.
To say that music has shaped her life is an understatement. She began with 5 years of piano lessons, trained in dance for 14 years, and taught dance for another 4 years. She has created choreography for her choruses and still has all the right moves! She served on Region 24's Musical Team from 1992-2013 and was Region 24's Director Certification Program Coordinator from 2003-2013. She has been a Certified Director since 1999. Now that Capital City Sound is a part of Region 13, Jerrie will be organizing Area Schools in 2018.
Jerrie continues to learn and expand her horizons. She attends multiple Sweet Adeline workshops every year. She has attended Director's Schools in Tulsa and Puerto Vallarta, went to Northwest Harmony College and the AHA Symposium, and much, much more. She has also attended three men's music schools, coached Bozeman's Chord Rustler men's chorus and men's quartets. We are fortunate to have such a knowledgeable, dedicated Director/Choreographer for our Chorus!